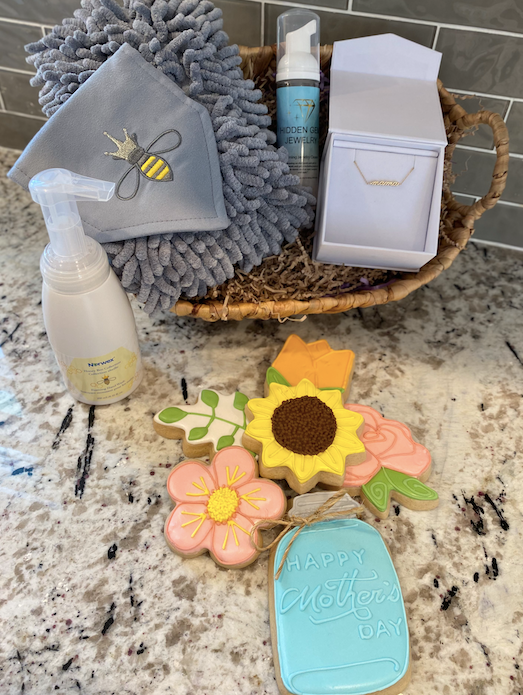 Introducing the "Queen Bee Mother's Day Gift Basket." A luxurious and thoughtful gift to honor the extraordinary Moms and Grandmas in your life! This exquisite gift basket is a perfect blend of fine jewelry, delectable treats, and elegant home decor, designed to make moms feel truly cherished and appreciated on their special day. Start by choosing your favorite jewelry to complete your basket!
Pick out Jewelry
What is in a Queen Bee Basket?
Mason Jar and Flowers Sugar Cookies

These delectable sugar cookies from Sugar Mama Cookie Co are as delicious as they are beautiful. These fancy sugar cookies are intricately decorated with royal icing in a variety of flowers and situated as an arrangement in a large mason jar shaped cookie which adds a touch of sweetness to the gift basket. These cookies are a treat for the taste buds and a feast for the eyes, bringing joy and delight to any mom with a sweet tooth.

Queen Bee Hand Towel and Soap

The queen bee hand towel is perfect for any bathroom or kitchen as it comes with a hanger that helps it stay put. Another thing that stays put are germs and bacteria as this towel uses Norwex backlock technology to keep any germs from transferring between uses.

The honey bee hand wash is made with naturally sourced ingredients and has a very light and luxurious spring scent. This hand soap leaves hands feeling clean and moisturized and is great for bathrooms and kitchens. Your queen bee is sure to love it the look and feel of these bee-utiful home accessories.

Hidden Gem Jewelry Cleaner

You'll know that you're starting your day with a little extra sparkle. No matter your destination, whether it's that boardroom or the beach, focused on deadlines or date night, we've got you covered. Our jewelry cleaner is made in America, biodegradable and non-toxic.

Your Choice of Fine Jewelry

Nestled inside a beautifully curated gift box, the centerpiece of this gift basket is a stunning piece of fine jewelry of your choice in either 14k gold or sterling silver. Whether it's a delicate necklace, a shimmering bracelet, or a pair of exquisite earrings, the fine jewelry you choose to included in your gift basket has been carefully selected to make any mom or grandma feel like a queen. This jewelry serves as a timeless reminder of her unique beauty and the special place she holds in your heart.