Regular price
$955.00 USD
Regular price
Sale price
$955.00 USD
Unit price
per
Sale
Sold out
Introducing the East West Ring, a fusion of organic beauty and contemporary sophistication. The Wind (diamond) giving force and movement from the East or the West, next to the Emerald cut stone of your choice. Inspired by the integration of nature and modern design, the ring captures attention with its unconventional placement. Versatile and stylish, the East West Ring is perfect for any occasion, seamlessly blending timeless allure with a contemporary expression of your personal style through the gemstone of your choice.
The Symbolic Significance of Gemstones:
Earth (Emerald): Earth represents stability, grounding, and nurturing. It is the force that provides a solid foundation for growth and sustenance. In many cultures, earth is associated with fertility, abundance, and the cycles of life. It symbolizes our connection to nature and the physical realm.
Water (Blue Sapphire): Water represents flow, adaptability, and emotion. It is the force that can be both gentle and powerful, and is often associated with healing, cleansing, and renewal. In many cultures, water is seen as a symbol of life, fertility, and wisdom.

Fire (Ruby): Fire represents passion, energy, and transformation. It is the force that can both create and destroy, and is often associated with inspiration, creativity, and motivation. In many cultures, fire is seen as a symbol of the divine, representing purification, enlightenment, and spiritual awakening.
Air (Diamond): Wind represents movement, freedom, and change. It is the force that can sweep in unexpectedly and shake things up. In many cultures, wind is associated with the breath of life and is believed to carry messages or bring omens.
Spirit (Pink Sapphire): Spirit represents the intangible, ineffable essence of being. It is the force that connects us to something greater than ourselves, whether that be a higher power, a sense of purpose, or a community. In many cultures, spirit is seen as the animating force that gives life to all things, and is often associated with transcendence and transformation.

Ring Details:
14k solid yellow gold
Approximate shoulder width: 2.05mm
Approximate top height: 4.7mm
Approximate top dimensions: 8.94mm
Approximate shank base width: 2.05mm
Approximate shank base thickness: 1.79mm
Stone Dimensions:
(1) bezel set 7x5mm lab grown diamond or gemstone (approx. 1 carat)
(1) 4mm lab grown diamond
Stone Sourcing Details:
The lab grown diamonds and gemstones we use are not only ethical, but are
incredible cut and clarity.The lab grown diamonds we use are VS1 cut or better with at least G-J color.

All diamonds over 1 carat come with IGI or GIA certificate.

Every piece comes beautifully packaged and ready to gift.

Your purchase supports local Child Life programs.
Care Instructions

Make sure to keep jewelry clean. Use our special jewelry cleaner that comes with every order. We do sell our jewelry cleaner separately too. For more in depth information on caring for your jewelry see our care instructions.
Share
View full details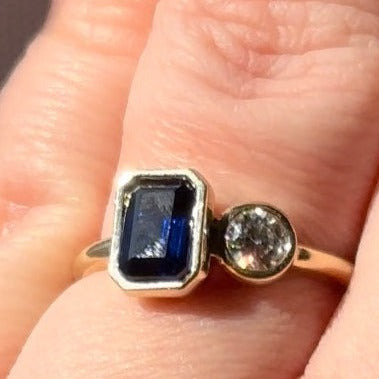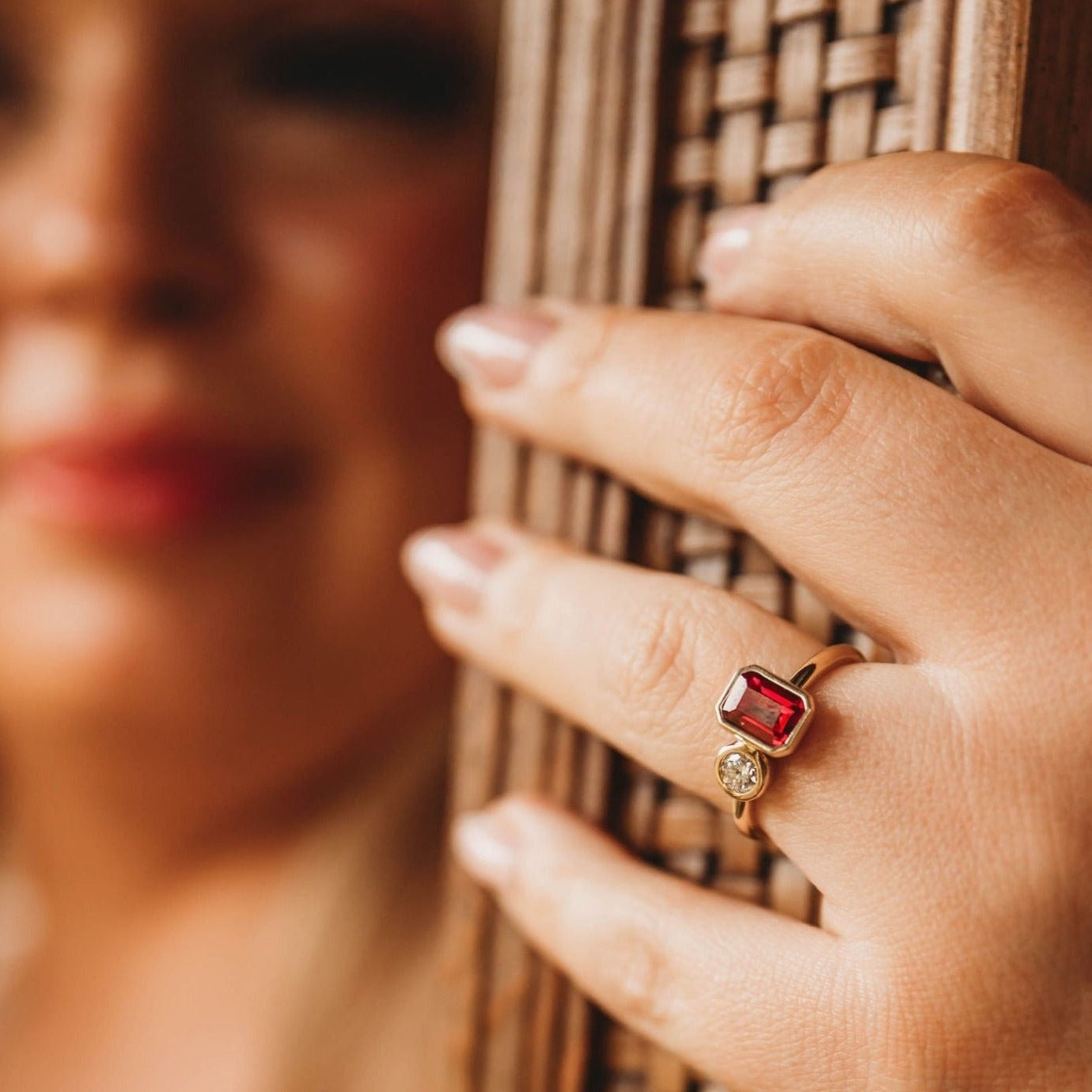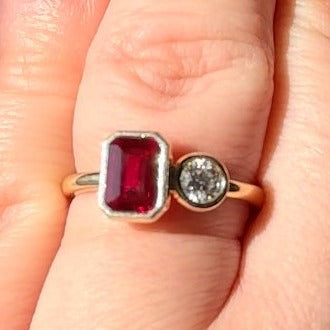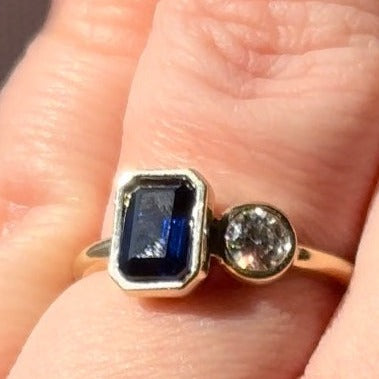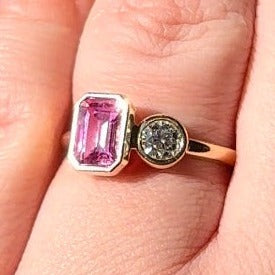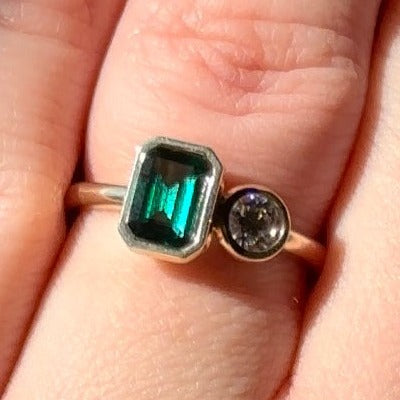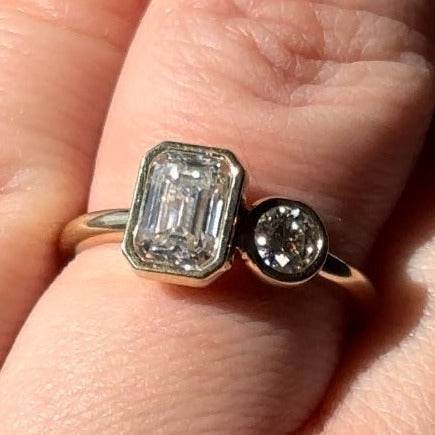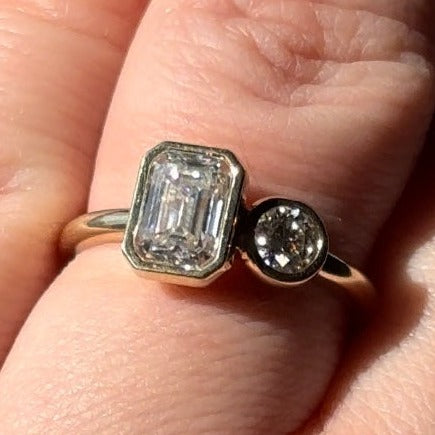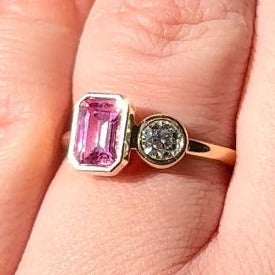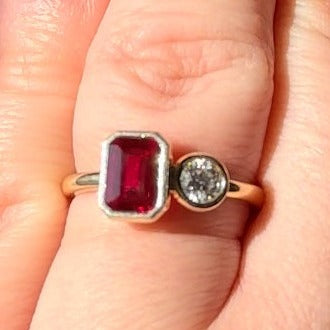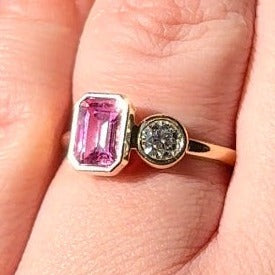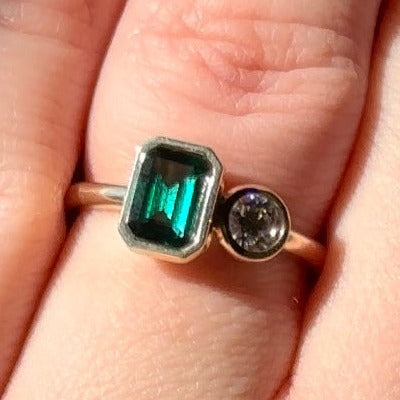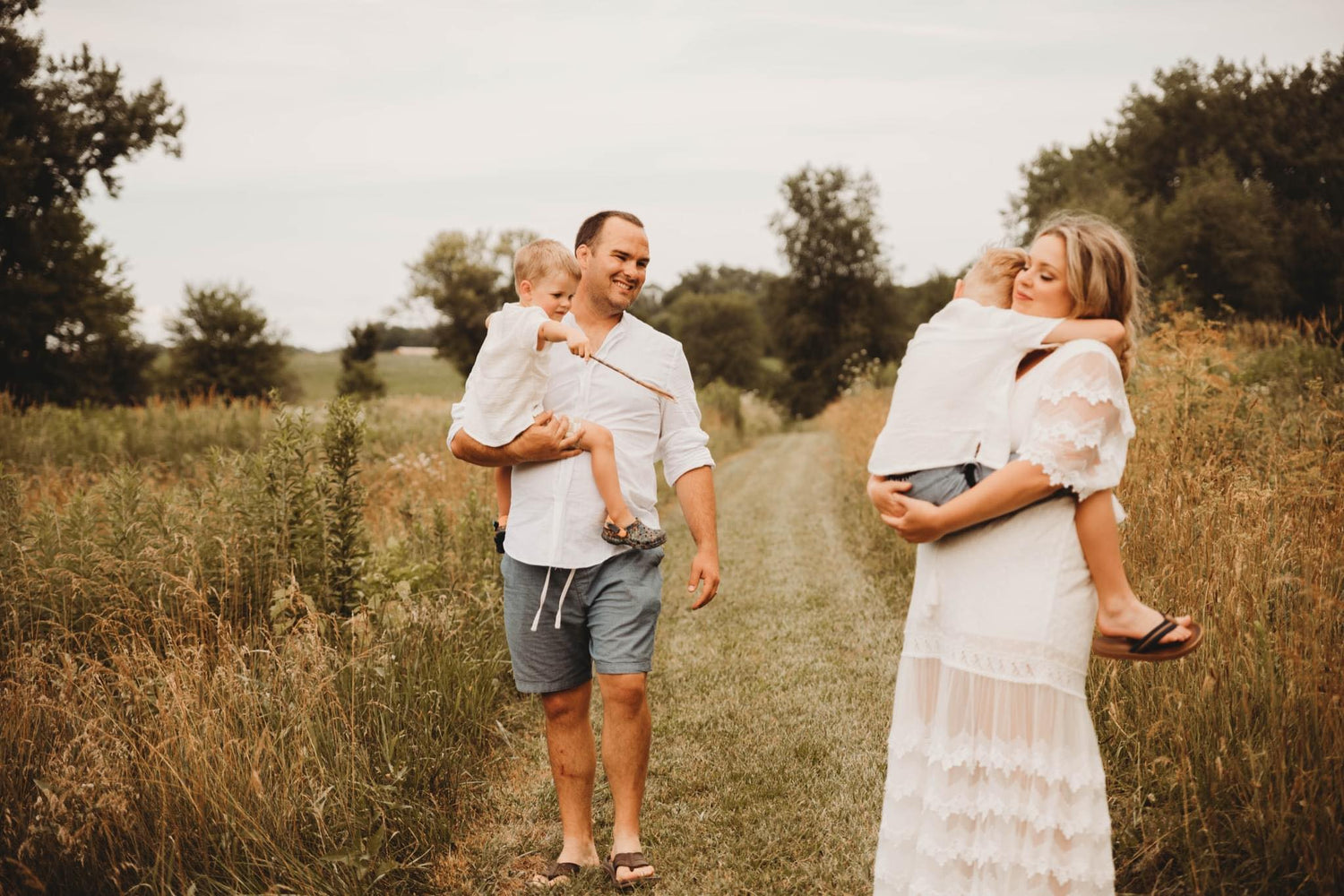 Carefully curated by Stu and Val
We want our fine jewelry to be an every day symbol of those you love, where you've been and where you are going.